West Central Missouri Music Educators Association
It's a great honor and privilege to direct the West Central Missouri All District Jazz Band. In addition to directing the band, I wrote a new piece we'll be premiering Saturday night in Sedalia. "Pathways" was fun to write and I look forward to hearing the band play.
About the piece: "Pathways" was written for the West Central Missouri Music Educ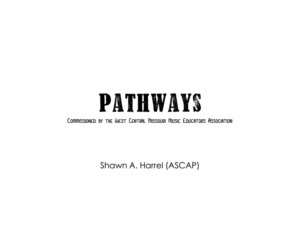 ators Association and C. Grant Maledy, Jazz Vice President, to be performed by the 2015-16 All District Jazz Band.
The title of the piece sheds some light on the creative genesis behind it: as musicians, students, and teachers, we're all traveling on different journeys towards various life goals and objectives. Along these different "pathways" we encounter colleagues, friends, teachers and other mentors who help shape us into who we ultimately become.
Most importantly, as we move along our own pathway we have great potential for positive impact on others around us who are on various stages of their own exploration. This piece is about reminding us to acknowledge those who we admire and to be that person for others around us — especially in a musical context.